Bran Solo at the Paloma Negra UNFOLLOW group exhibition
Next Thursday, December 21st, the second collective exhibition organized by Paloma Negra under the title UNFOLLOW will take place in the creative space The Rubias, in the Ruzafa district of Valencia.
UNFOLLOW is a collective exhibition of painting and illustration in which the members of the Paloma Negra collective as well as several artists invited to the event participate in order to promote their work in the Valencian capital.
The exhibition is framed in the desire to express, from the media pressure of the generation of social content on the Internet, what we believe sets us apart from other artists and that in turn unites us as a group. We are not followers of trends, or artists of repetition, but each of the participants tries to find his or her own style, message and path to follow, as a vital necessity in our artistic career, leading us to be "followed" or "forgotten". We do not believe in the philosophy of the merely decorative, nor do we join in the fashions in art that are left out of our own innovation shaped by the experience, emotional or technical, of each one of us.
We want to break the monotony and emptiness of contemporary art, and we demonstrate this with UNFOLLOW.
The Rubias space (Carrer del Pintor Gisbert, 10) has been hosting this exhibition since December 21st, and for one month, with the opening ceremony at 9.30pm on Thursday, to which you are all invited.
Access is free of charge and will be attended by the participating artists.
We hope to see you there!
Participants:
Espinaca Explosiva, Jaume Mora, Jonny Casamenti, TheHugo, Nuria Riaza, Fran Munyoz, Julia Navarro, Bran Sólo, Pascual Rodríguez, Vorja Sánchez, Oct Streitenberger, El Dibujo, Alejandro Llamas, Carlos Fiore y Dino Galvagno

Bran Sólo en la exposición colectiva de Paloma Negra UNFOLLOW
El próximo jueves 21 de diciembre 2017 en el espacio creativo The Rubias, en el barrio de Ruzafa, Valencia, tendrá lugar la segunda exposición colectiva organizada por Paloma Negra con el título UNFOLLOW.
UNFOLLOW se trata de una muestra colectiva de pintura e ilustración en la que participan los integrantes del colectivo Paloma Negra así como varios artistas invitados al evento con el ánimo de dar a conocer y promover su obra en la capital valenciana.
La exposición se enmarca en el deseo de expresar, desde la presión mediática de la generación del contenido social en internet, lo que creemos que nos diferencia del resto de artistas y que a su vez nos une como grupo. No somos seguidores de tendencias, ni artistas de la repetición, si no que cada uno de los participantes trata de encontrar su propio estilo, mensaje y camino a seguir, como una necesidad vital en nuestra carrera artística, nos lleve esto a ser "seguidos" u "olvidados". No creemos en la filosofía de lo meramente decorativo, ni nos sumamos a las modas en el arte que quedan fuera de la innovación propia modelada por la experiencia, emocional o técnica, de cada uno de nosotros.
Queremos romper la monotonía y vacuidad del arte contemporáneo, y lo demostramos con UNFOLLOW.
El espacio The Rubias (Carrer del Pintor Gisbert, 10) acoge esta muestra desde el 21 de diciembre, y durante un mes, siendo la inauguración a las 21.30h del jueves a la que todos estáis invitados.
El acceso es gratuito y contará con la presencia de los artistas participantes.
Espinaca Explosiva, Jaume Mora, Jonny Casamenti, TheHugo, Nuria Riaza, Fran Munyoz, Julia Navarro, Bran Sólo, Pascual Rodríguez, Vorja Sánchez, Oct Streitenberger, El Dibujo, Alejandro Llamas, Carlos Fiore y Dino Galvagno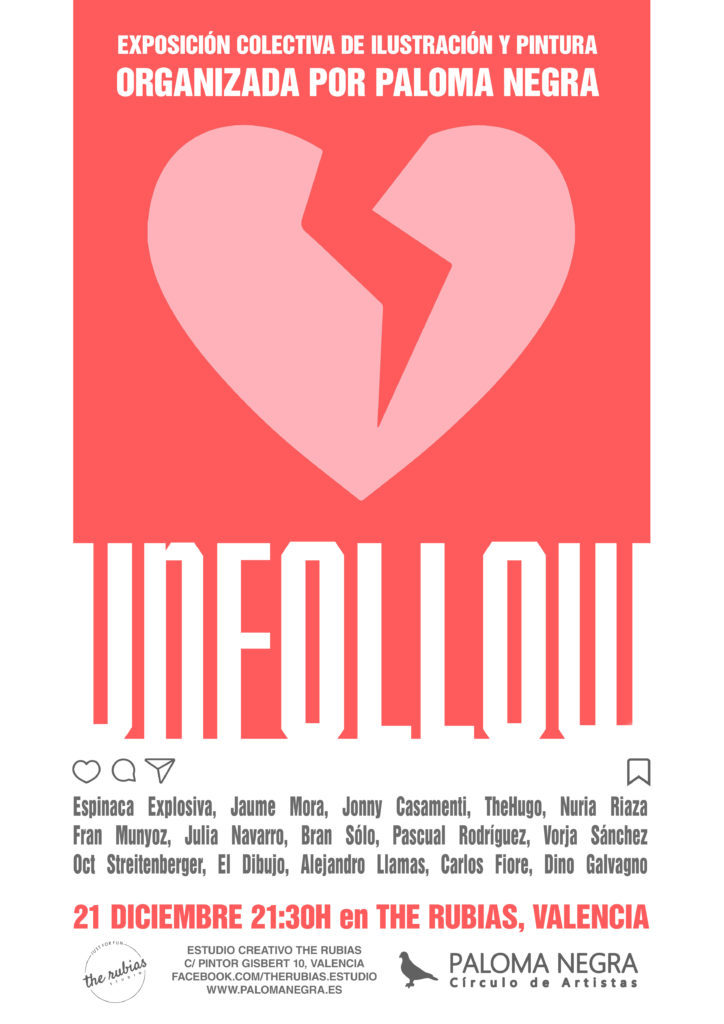 Noticia en ValenciaPlaza / PRESS NOTE: