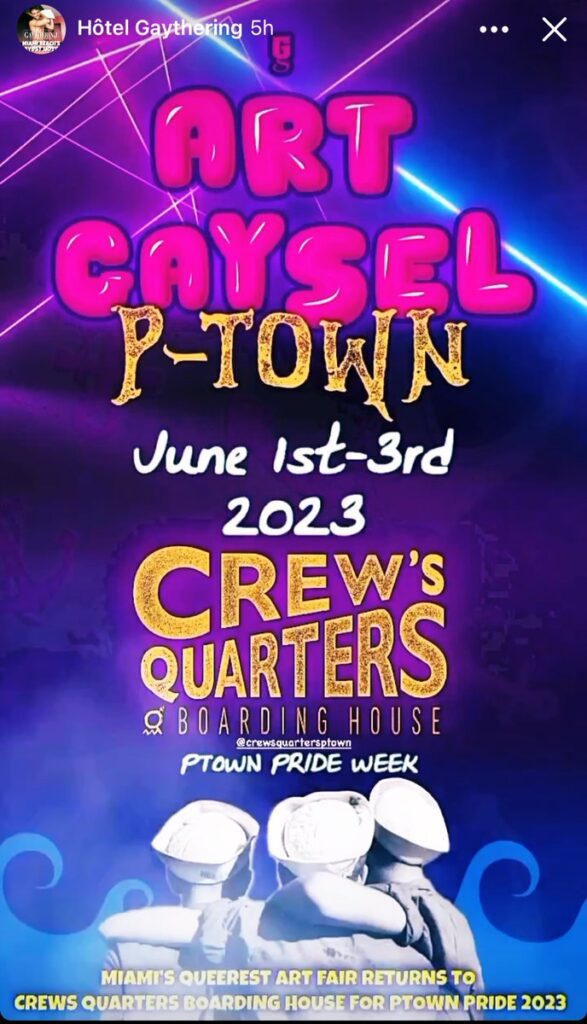 This LGBTQ+ Pride in Provincetown hosts the most Queer art fair you can imagine.
Brought to you directly from the Gaythering Hotel in Miami Beach by Alexander Guerra (@itstherabbit) where it has been held every December since 2017 on the occasion of ART BASEL art week, and in which more than 30 different artists participate for each edition.
Now, and to celebrate diversity and inclusion in art,ARTGAYSEL arrives at PTOWN with an unprecedented artist showcase that will fill all three floors of the Crew's Quarters Boarding House on Commercial St (across from Cafe Haven).
The dynamics of the fair is to give freedom to each artist to show their work and interact with their audience in their own private space, directly and without intermediaries, while making known the facilities of this centenary Hotel located in the center of the city.
Each artist will show their work in the same room where they will reside for the entire weekend (Thursday through Saturday open all day, with a break for TDANCE around 4pm). In this way, the doors will be open and visitors will be able to go through all the rooms to see and acquire the work of these artists coming not only from the US but from all over the world, as the case of Bran Sólo and Daniel El DIbujo, arrivals from Spain and veterans in ARTGAYSEL since 2019.
The fair begins on Thursday 1 and closes on Saturday 3, from 12 noon to 10 pm, and is free of charge.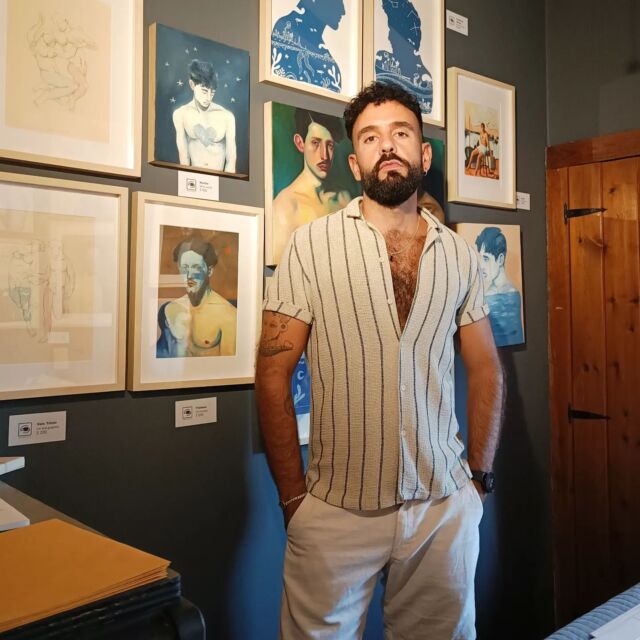 Bran Sólo participates in this show with more than 50 new original works. Four of these works are very recently finished, in fact some of them are wet oil paintings placed on the wall of the Crew's Quarters, as a strong commitment to bring to Massachusetts the best and newest, the latest research and work he has carried out, and in particular some works such as ROTO and ROTO II, or AMARGO and BURNING DESIRE that are, refers:
"works in which I have been able to express, at last, more with less. Only by using a face, an expression, I wanted to tell more than what I tell in other works full of line, symbology and narrative. The technique and finish is a milestone for me in these four works of which I am very proud".
So, you are all invited to enjoy this LGBTQ+ art fair that takes place during Pride week in Provincetown, MA and is already a real source of pride for the town and its artists.