Offer the artwork of Bran Sólo in your store or gallery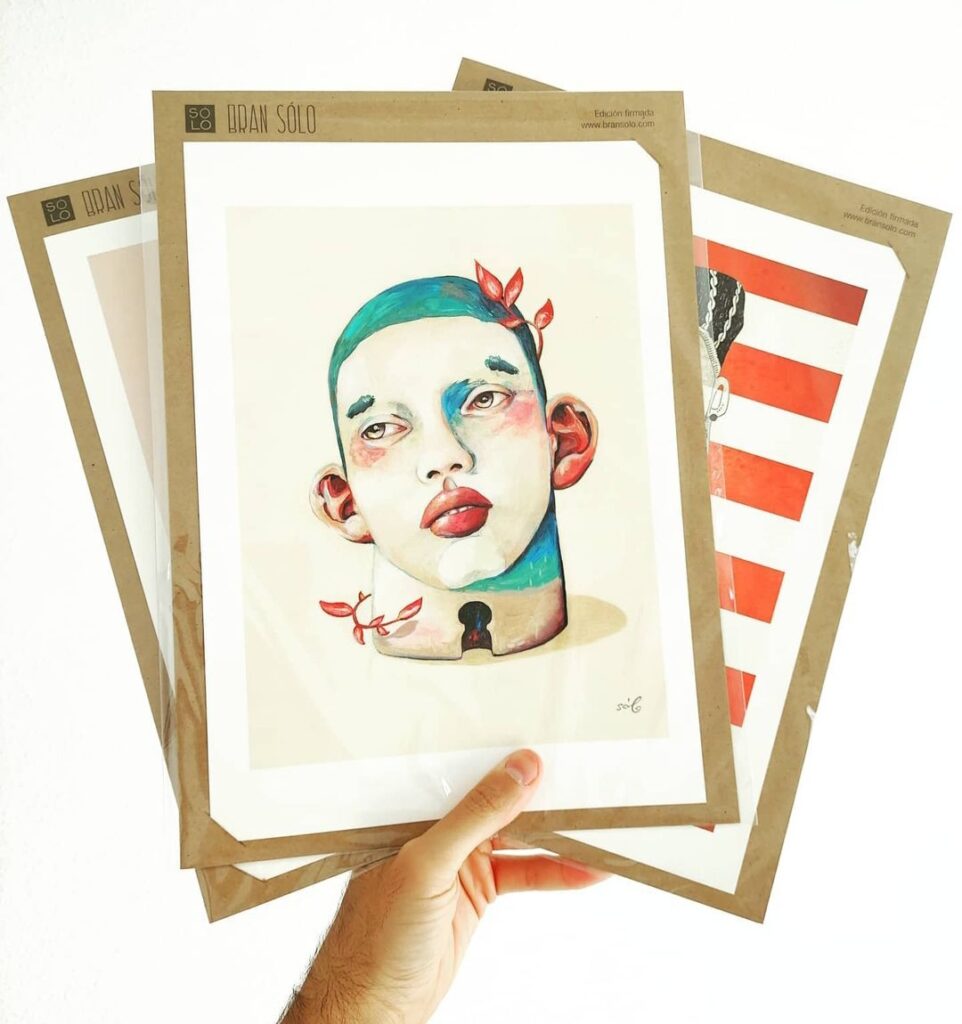 Spanish artist Bran Sólo has been working with galleries and retailers around the world since 2014. There is available to resellers a catalog of more than 160 products in high quality printed reproduction format, which you can order for your business in direct order at 50%.
Take a look at the works available on shop.bransolo.com and make your selection by adding to your cart the quantities you would like to receive.
Place your order by registering and identifying your business and at the end choose the payment method by BANK TRANSFER.
Bran Sólo will contact you to finalize details if necessary, and you will receive an online payment link for 50% of the value of your online cart.
Once the payment has been made, you will receive your order in your store by private courier service door to door, and you will be able to offer it in your business at a recommended price of 20€ for 21x30cm reproductions, and 40€ for the 30x40cm format.
Shipping costs are always free worldwide. Sometimes the stock requires reprinting a model so the order may take a few days. The price in Spain for Bran Sólo reproductions is 20 and 40€, outside the country each store can establish its price according to the market. The reproductions are printed editions on Canson paper with powdered pigment, and are presented in a folder format display, with certificate of authenticity, and a cellophane cover to protect each item.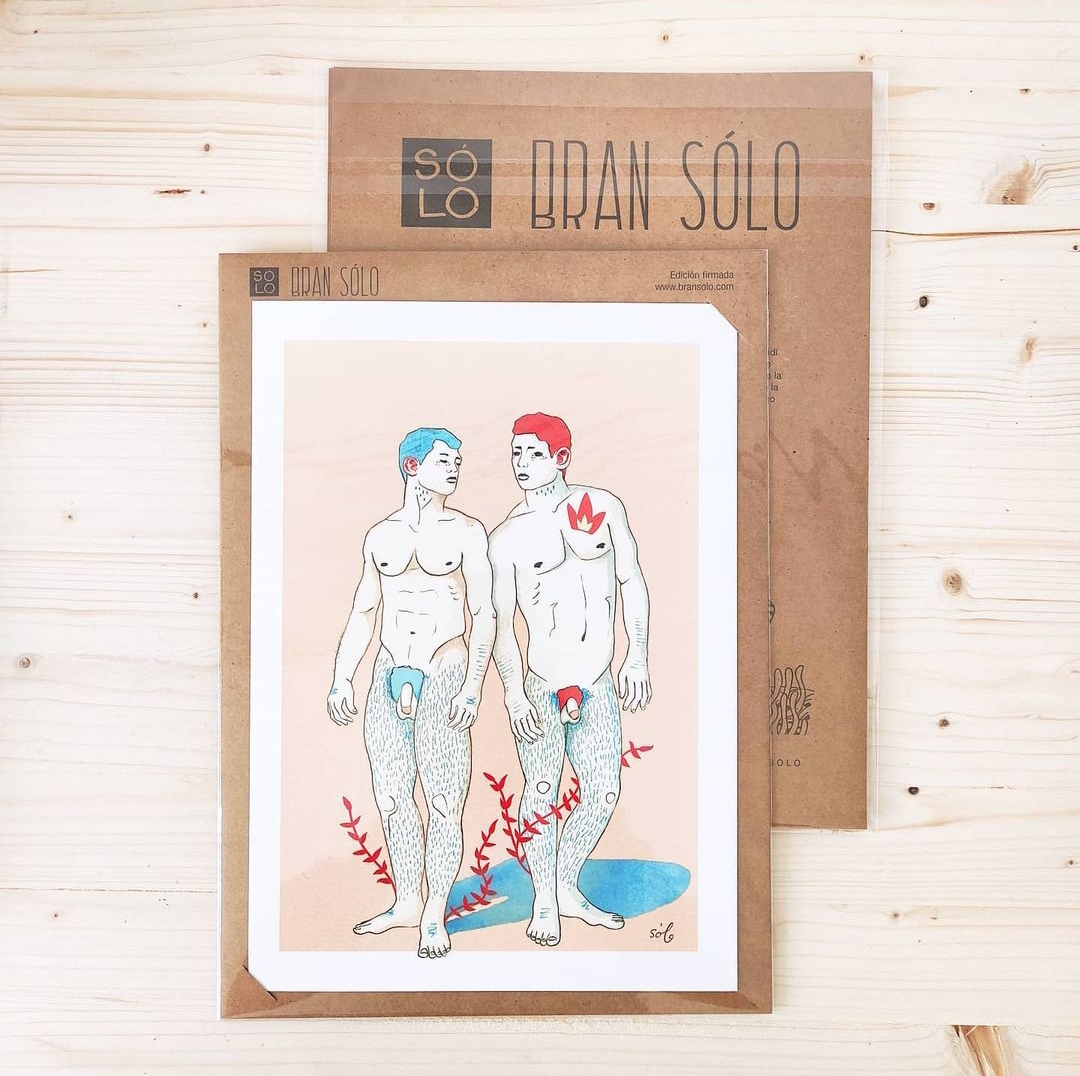 High quality reproductions
The Bran Sólo reproductions are open editions, hand-signed, printed with powder pigment on Canson CABALLO 109A Fine Art Matte paper, with the color calibrated by the artist, and are presented in a recycled Kraft cardboard folder, with artist's data and certificate of authenticity and name of the work on the back. The set is offered sealed in a transparent cellophane envelope, and are shipped worldwide with love.
Here is a selection of the best-selling reproductions until September 2023. These never fail!
One of Bran Sólo's most recognizable classics that half the world has at home 🙂
Silhouettes in blue sea, with feelings that grow irrepressible like plants.
PESCADOR series with flying boats, illustrations that talk about the sea and loneliness, others about the frustration of masculinity, and some that may be more erotic but are really about men and heartbreak. There are many more online, these are just the best sellers.

Bran has exhibited his work at the Museo Carmen Thyssen in Malaga, at the ESTAMPA fair in Madrid.
In addition, he collaborates with publishers who sell his printed work at MACBA and CCCB in Barcelona, CAIXA Forum Madrid and the Centre Pompidou in Malaga, as well as at the ARCO Art Fair (Llibreria Laie) and in specialized stores and art galleries in Spain and abroad.
Bran Solo exhibits every year in Provincetown (Massachusetts, USA) during the PRIDE LGBT and in Miami Beach (Florida, USA) during the ARTBASEL art fair at the ArtGaysel fair at the Gaythering Hotel.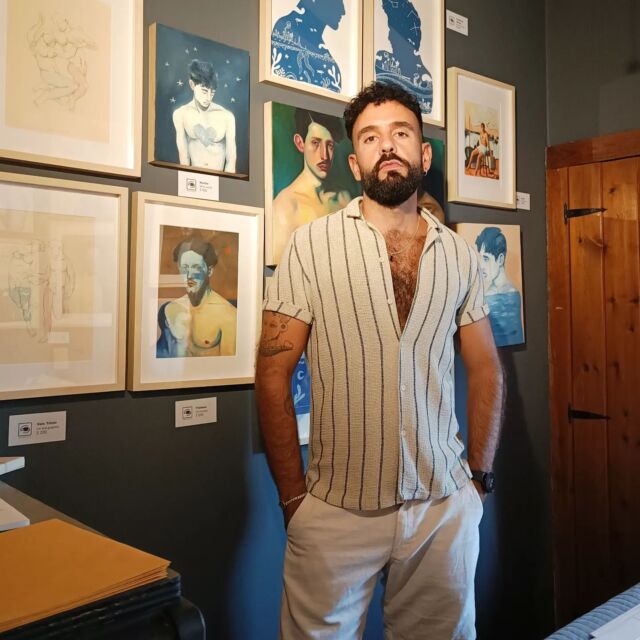 I paint to never die
Born in Abarán, Murcia (Spain), in 1985, Bran Sólo defines himself as a "Good person, painter, illustrator, designer and photographer, as well as many other things I never wanted to be".
Graduated in 2006 in Computer Applications Development and Database Analysis, he worked for seven years in the technology sector.
In 2010 he participated in the official programme of parallel events of the European Biennial of Contemporary Art Manifesta, in its eighth edition, with an exhibition at the Casas Consistoriales space in Mazarrón.
In 2012 he decided to abandon his work as a computer programmer and lifestyle to devote himself to drawing and enroll in the School of Art of Murcia, leaving behind family, couple and home and moving alone to a studio in the city of Murcia.
It is in the same school where he discovers that an eye disease, of unknown origin, conditions his perception from childhood. A macular lesion, formed by scars in the central area of the retina, distorts the images in a way that it describes as "kaleidoscopic", sharply multiplying the images with high contrast or brightness. In this way, he discovers that he cannot certainly find the line that separates a white area from a black one, confuses volume with emptiness, the positive with the negative and, except in specific light circumstances, perceives all objects multiplied up to eight or ten copies, depending on distance, and especially those that are luminous, making it difficult to visualize screens and projections as well as elements that emit or reflect moderate amounts of light. This condition, which forces the brain to interpret reality very subjectively, gives it a "unique vision", which he sustains with humour "is the most important quality that an artist must have".
He finished his studies in 2014 and graduated in Plastic Arts and Design in Illustration, presenting in his final project the Tarot de Laguna by which he is qualified with the highest score of the jury, which grants him an Erasmus scholarship that takes him to Oporto.
After his stay in the Portuguese city, he moved to Madrid where he officially began his artistic caree. He moves in 2015 to Barcelona where he continues his work.
In 2015 he holds his first solo exhibition: "Perfume de flor de cuchillo" in Kipfer&Lover, Malaga, which is a great success.
He returns to Murcia in 2016 where he currently resides.
From that moment on, his career advances exponentially and in a short time he manages to show his work at the Carmen Thyssen Museum in Malaga, at the ESTAMPA fair in Madrid, at the gallery NB7 of the FLECHA fair in the same city, as well as in other spaces such as Échale Guindas Galería, Matraca Gallery, VillaPuchero Factory, Factoria de Arte y Desarrollo, Swinton & Grant, The Folio Club, The Folio Club, Nigredo Espacio, El Gallinero or Vergel Espacio.
In addition, he collaborates with the publishers of 180hilos, exhibiting works in serial edition at MACBA and CCCB in Barcelona, CAIXA Forum Madrid and at the Centre Pompidou in Malaga, as well as ARCO Art Fair 2018 (Llibreria Laie Stand) and manages to find a niche in specialised shops and art galleries inside and outside Spain.
In 2018 he publishes for sale the Tarot de Laguna, a research and personal development work based on the fundamentals of psychoanalysis.
He is currently researching the relationship between science and art, which he says is "inseparable from me", as well as being interested in the graphic study of other subjects such as masculinity, fear and human emotions, love and blindness.
Subjects
The protagonists tend to be characters from his surroundings and models that he usually photographs in his studio, predominantly men, with a melancholic, pessimistic and solitary character, which is the main subject dealt with in most of his works.
Bran Sólo is a lover of the sea, linking its color palette to the Mediterranean.
He usually replaces the shape and colour of the human body with a blue colour like the sea, on backgrounds reminiscent of the fine sand of some of the Mediterranean landscapes in which he gets inspired.
Contemporary sadness
The idea, based in part on the essay by the Belgian philosopher and art historian Hippolyte Fierens-Gevaer entitled Contemporary sadness: essay on the great moral and intellectual currents of the nineteenth century, inspires Bran to work on the feeling of loneliness, of feeling different, excluded and rejected in a pessimistic, exhausted environment, where faith in humanity, and therefore in oneself, has been lost.
"To doubt, not of the existence of God, but of the presence of a divine virtue in human acts, is the highest form of contemporary sadness". (Hippolyte Fierens-Gevaer)
The 2017 Ansak series of illustrations reflects this pessimistic character through his inexpressive, slightly melancholy, dark portraits of faces that, although deformed by the emotions of the portrayed character, do not fail to convey the forgotten beauty behind the pain and fear that seems to drown the model.
Loneliness
The theme that worries the painter the most is solitude, reflecting it even in his name with a "o" with a tilde (the one of "Sólo") that more reminds to an adverb of quantity than to an adjective of company in the spanish language.
"It is not about loneliness in the context of dependence on a partner or family, but it refers to the feeling of being unable to find or return home, to connect with other people or simply to feel overwhelmed by the brutal scenery that nature, as majestic as it is perverse, holds for us".
It is possible that the visual circumstance that characterizes Bran's personality aggravates this feeling of loneliness, creating a ghostly and hostile scenario, empty of humanity.
LoVE
Is this characteristic, which makes any person who moves more than a few centimetres away into a shadow, reaffirms the painter's need for the physical, for touch as a substitute for vision (hence symbols such as the hand with an eye in the palm), and for the value of the company and the exchange of visions.
Affection, admiration, connection, protection and commitment are recurring themes and inspirational motives for the symbology that appears in his works.
Want to ask me something?
or write to bran@bransolo.com