HOTEL X HOTEL, collective exhibition about Martin Kippenberger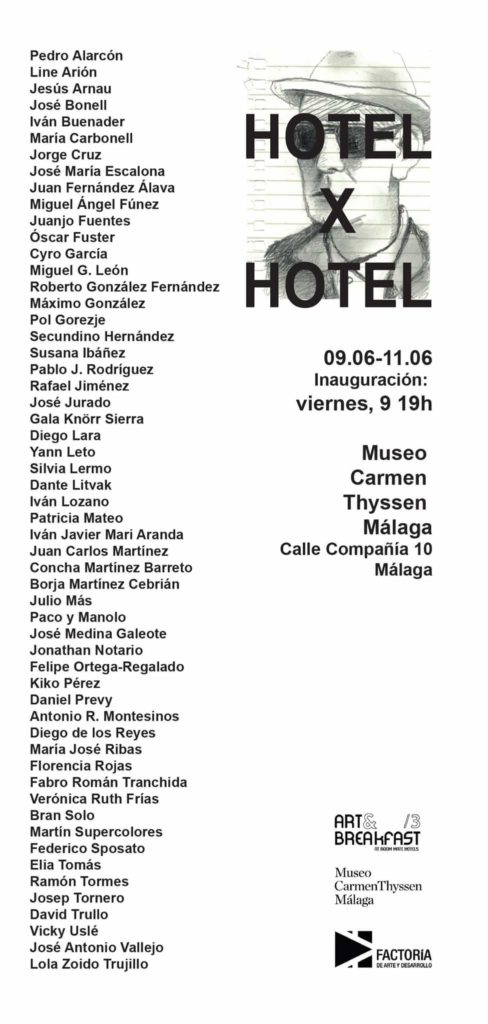 As part of the programme of the Art and Breakfast 3 fair in Malaga, the exhibition "Hotel x Hotel"will be inaugurated, a proposal by Guillermo Martín Bermejo in homage to Martin Kippenberger, who between 1985 and 1996 made a kind of diary with sketches and autobiographical drawings on the leaves of the different hotels where he stayed.
Martín Bermejo has invited around sixty artists, including Bran Solo, to emulate the German artist on the 20th anniversary of his death and to make his work on hotel stamped sheets.
Hotels have always been a symbol for artists. Symbol of passage, of encounters, of flight. Crazy nights and desperate nights. It is perhaps based on fundamental experiences in our life and work.
Martin Kippenberger knew that very well. And that is why he built between 1985 and 1996 a kind of newspaper on the leaves of the different hotels where he stayed for the crazy events of his life.
These autobiographical drawings, made on the leaves with the anagram of the hotels, sometimes sketches of works that he would carry out later, others only the small interval of time of a wait or a sleepless night, guide us through his life and tell us about his joys and sadness.
Now, in these digital times, in which almost no hotel has a classic stationery store, with its letterheads and envelopes, I have proposed fifty-eight artists to work with stamped sheets from the different hotels in Malaga and to pay a small tribute to Kippenberger and his life in hotels.
The sheets, nowadays, are pdfs that have been sent to us by the hotels, because as I said, the great majority of them have it all digitalized. Artists have been given absolute freedom to intervene in any way they wish. Drawing, collage, photocopy, engraving, etc…..
HOTEL X HOTEL was created within the parallel cultural activities of Art & Breakfast in its third edition in Malaga, where it was produced for the Carmen Thyssen Museum in Malaga. Now it is presented in exhibition format for our space in Calle Valverde in Madrid. Together with the work of the selected artists we can enjoy an original piece by Martin Kippenberger borrowed by the collector Mima Betancor.
Guillermo Martín Bermejo
Curator
ARTISTS
Pedro Alarcón / Line Arión / Jesús Arnau / José Bonell / Iván Buenader / María Carbonell / Jorge Cruz / Javi al Cuadrado / José María Escalona / Juan Fernández Álava / Miguel Ángel Fúnez / Juanjo Fuentes / Óscar Fuster / Cyro García / Miguel G. León / Roberto González Fernández / Máximo González / Pol Gorezje / Secundino Hernández / Susana Ibáñez / Pablo J. Rodríguez / Rafael Jiménez / José Jurado / Gala Knörr Sierra / Diego Lara / Yann Leto / Silvia Lermo / Dante Litvak / Iván Lozano / Patricia Mateo / Iván Javier / Mari Aranda / Juan Carlos Martínez / Concha Martínez Barreto / Borja Martínez Cebrián / Julio Más / Paco y Manolo / José Medina Galeote / Jonathan Notary Public / Felipe Montesinos / Martín Supercolores / Diego de los Reyes / María José Ribas / Florencia Rojas / Fabro Román Tranchida / Veronica Ruth Frías / Bran Solo / Elia Tomás / Ramón Tormes / Josep Tornero / David Trullo / Vicky Uslé / José Antonio Vallejo / Lola Zoido Trujillo
HOTEL X HOTEL
A tribute to Martin Kippenberger
Curator: Guillermo Martín Bermejo
9 – 11 June 2017
Carmen Thyssen Museum Malaga
10 Compañía St, Málaga